Resources - The Heraldic Craftsman
Featured Artist: Lawrence (Laurie) J. Patten, FRHSC, CSHA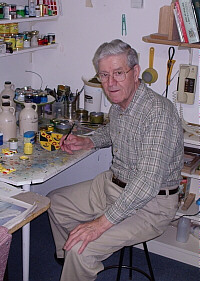 The current featured artist in the Heraldic Craftsman section is a man well known throughout the Society and, indeed, throughout the Canadian heraldic community - Laurie Patten of Nanaimo, BC. Laurie (I have never heard anyone refer to him as Lawrence) hails originally from Southampton in the UK. In England, he attended the Southampton and Brighton College of Arts and Crafts for five years, his major study being heraldry. After a three-year post-war stint in the RAF, he emigrated to Canada in 1954, settling in BC. Working as a sign painter, he honed his heraldic skills and in 1977 joined the Heraldry Society of Canada, being one of the founders of the BC/Yukon Branch.
1n 1994, Laurie was granted Canadian armorial bearings. In 2000 he was elected as a Fellow of our Society and in 2002 as a Craftsman to the UK Society of Heraldic Arts - both notable honours. He is currently President of the BC/Yukon Branch, which he helped to found so many years ago.
In 1991, Laurie "retired" to his present busy life as a heraldic craftsman, carrying on a number of related crafts from his home studio in Nanaimo. Having started off as a painter, Laurie discovered the magic of computers and their value in creating outstanding heraldic art. Nowadays, much of his work is done through that medium. As he says, he is continuing a fifty-year career devoted to the craft of heraldry - from brush to mouse. Examples of his work are shown below.
The Works
Click on any image to view a larger image of the same.
| | | |
| --- | --- | --- |
| | | |
| A selection of Armigerous British Columbia Lt.Governor's. The technique is sub lamination glued onto 1" thick western red cedar. These are now mounted below the portraits of that hang in Government House Victoria. | A pair of walnut bookends on which are mounted the shield of Shawnigan Lake private school. | Two separate shields, on the right is that of Lt. Governor Rogers and on the left is Shawnigan Lake school. The technique in their construction is the same as in picture 1. |
| | | |
| A table shield of Robert Watt, FRHSC, with wife Alison impaled. | This is the reverse side of Lt. COL. Robert McColgan's shield showing his crest. These are both sub lamination mounted on a walnut shield, stem and base. | Lawrence Patten's FRHSC, SHA, own arms on a wine glass, in which the arms were applied via glass lasering. |
| | | |
| A carved reproduction of John Wilkes's, FRHSC (Hon), achievement. | An ancestry chart of the Muise in Acadia. | This a small area of the Muise chart showing the ancestor Muise in Acadia and the shield that was granted to him by the first Governor. |