Arms & Badges - Arms of Past and Present Canadian Governors General
The Office of the Governor General, Canada's oldest continuing institution, is a thread that ties Canadians together. From Samuel de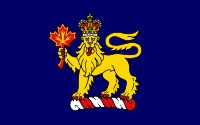 Champlain in 1608 to Viscount Monck in 1867 to Vincent Massey in 1952 to H.E. the Rt. Hon. David Johnston today, the role of the Governor General dates back nearly 400 years.
Canada is a parliamentary democracy and a constitutional monarchy. This means Canadians recognize Queen Elizabeth II as Queen of Canada and our Head of State. The Governor General's primary responsibility is to represent the Queen, Canada's Head of State. His/her role is based on the following "themes":
The Governor General's flag, depicted above right, is blue with the crest of the Arms of Canada in its centre. A symbol of the sovereignty of Canada, the crest consists of a gold lion wearing the Royal Crown and holding in its right paw a red maple leaf. The lion stands on a wreath of the official colours of Canada. The flag was approved by Her Majesty The Queen on February 23, 1981, and it follows the general pattern of the Governor General's flag in use since 1931.
---
Click on the arms presented below to view a larger image of the same and its blazon if available. Click on the name to view their biographies.

The Rt. Hon. David Johnston, CC, CMM, COM, CD
David Johnston began his professional career as an assistant professor in the Faculty of Law at Queen's University in 1966, moving to the Law Faculty at the University of Toronto in 1968. He became dean of the Faculty of Law at the University of Western Ontario in 1974. In 1979, he was named principal and vice-chancellor of McGill University, and in July 1994, he returned to the McGill Faculty of Law as a full-time professor. In June 1999, he became the fifth president of the University of Waterloo.

Sworn in on October 1, 2010, His Excellency the Right Honourable David Johnston is the 28th governor general since Confederation.

2010 -
The Rt. Hon. Michaëlle Jean, CC, CMM, COM, CD
Michaëlle Jean was born in Port au Prince, Haiti. As a young child in 1968, she and her family left her country and sought refuge in Canada. Michaëlle Jean has won numerous honours for her professional achievements, including: the Human Rights League of Canada's 1989 Media Award for her report titled La pasionaria, on the struggle of an immigrant woman in Québec; the Prix Mireille-Lanctôt for her report titled Partir à zér, dealing with spousal violence; the Prix Anik for best information reporting in Canada for her investigation of the power of money in Haitian society; the inaugural Amnesty International Canada Journalism Award; the Galaxi Award for best information host; the 2001 Gemini Award for best interview in any category; and the Conseil de la Langue Française du Québec's Prix Raymond-Charette. Michaëlle Jean has also been named to the Ordre des Chevaliers de La Pléiade by the Assemblée internationale des parlementaires de langue française.
2005 - 2010


The Rt. Hon. Adrienne Clarkson, CC, CMM, COM, CD
Madame Clarkson was the 26th Governor General of Canada from October 7, 1999 to September 27, 2005. The Rt. Hon. Andrienne Clarkson was the patron of The Royal Heraldry Society of Canada while she was Governor General.


1999 - 2005


The Rt. Hon. Roméo LeBlanc, CC, CMM, CD, PC
The Honourable Roméo LeBlanc became Governor General of Canada on February 8, 1995, following a long and distinguished career of public service. An Acadian born in Memramcook, New Brunswick in 1927, he was the first Governor General from the Maritimes.


1995 - 1999


The Rt. Hon. Ramon John Hnatyshyn, CC, CMM, CD, PC, QC, FRHSC (Hon)
During the Honourable Ramon John Hnatyshyn's term of office, the official residence began to be known as a tourist destination, with many Canadians enjoying tours of the public rooms and grounds. In 1991, Mr. Hnatyshyn created the Governor General's Summer Concert Series, which became a popular annual music festival.


1990 - 1995






The Rt. Hon. Jeanne Sauvé, CC, CMM, CD, PC
First above left is the first Grant of Arms to the late Hon. Jeanne Sauvé, P.C., C.C., C.M.M., C.D., was from the English College of Arms in 1985.

Upon the formation of the The Canadian Heraldic Authority (CHA), she was granted new arms (second on the left).

Madame Sauvé's coat of arms was changed in several ways when granted by the CHA. Most significantly, the royal crown was replaced with the royal crest of Canada. A lightning flash was added to the eagle; the coronet was changed to include fleurs-de-lis (showing that she is a French Canadian); and the supporters were given collars.



1984 - 1990


The Rt. Hon. Edward Schreyer, CC, CMM, CD, PC
The Coat of Arms was granted by the The Canadian Heraldic Authority in 1990, following a design created by Bruce Beatty in 1980.


1979 - 1984


The Rt. Hon. Jules Léger, CC, CMM, CD, PC
The arms were granted in 1990 by the Chief Herald of Canada upon the petition of M. Léger's surviving relatives. The design is based on M. Léger's seal, created by Alex Colville in 1975.


1974 - 1979


The Rt. Hon. Roland Michener, CC, CMM, CD, PC, QC, FRHSC (Hon)
Roland Michener was appointed Governor General the same year that Canada celebrated 100 years of Confederation. On July 1, 1967, the Order of Canada was born and Governor General Michener presided over the first presentation ceremony in November of the same year.


1967 - 1974


The Rt. Hon. Georges Philias Vanier, DSO, MC, PC
As a young man, Georges Vanier was appointed an aide-de-camp to then-Governor General Lord Byng, in 1921. Thirty-eight years after that first introduction, Georges and Pauline Vanier came to live at Rideau Hall as the newly appointed vice-regal couple. The appointment of Georges Vanier was announced at a Cabinet meeting in Halifax presided over by Her Majesty Queen Elizabeth II.


1959 - 1967


The Rt. Hon. Vincent Massey, PC, CH, CC, GCStJ, CD
First Canadian-born Governor General of Canada. Mr Massey reeived a grant of arms in 1927, long before he became Governor General. An honourable augmentation of the Royal Crest of Canada was added by Royal Warrant in 1963.


1952 - 1959