Heraldry 4 Kids - What is Heraldry About Anyway?
1. Definition of Heraldry
Heraldry concerns itself with the study, design, regulation and use of armorial bearings, commonly known as "coats of arms". For more interesting background and pictures on what heraldry is all about, click here.
2. Canadian Heraldic Primer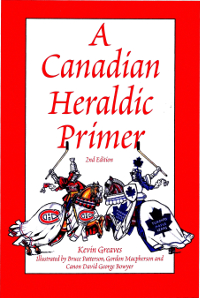 Heraldry is now, heraldry is fun, and most of all, heraldry is Canadian. A Canadian Heraldic Primer dispels, once and for all, the myth that coats of arms are boring, snobbish, mediaeval holdovers that have no relevance today.
Using cartoons, humour, and not a little irreverence, (in which is concealed a surprising amount of information), Kevin Greaves explains the history behind heraldry's unique conventions and language, and explores its creative possibilities. He shows heraldry as a part of Canada's past, present and future, and illustrates how this lively art has become even livelier since Canada became master of its own heraldic system in 1988.
Click here or the image on the left for more details on this book and information on ordering.