A Canadian Heraldic Primer, 2nd Edition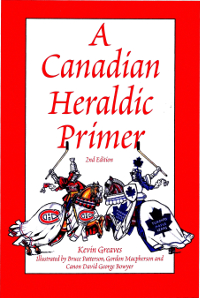 Heraldry is now, heraldry is fun, and most of all, heraldry is Canadian. A Canadian Heraldic Primer, 2nd Edition, dispels, once and for all, the myth that coats of arms are boring, snobbish, mediaeval holdovers that have no relevance today.
Using cartoons, humour, and not a little irreverence, (in which is concealed a surprising amount of information), Kevin Greaves explains the history behind heraldry's unique conventions and language, and explores its creative possibilities. He shows heraldry as a part of Canada's past, present and future, and illustrates how this lively art has become even livelier since Canada became master of its own heraldic system in 1988.
The main purpose of this book is to interest Canadians, young and old, in heraldry -- and particularly Canadian heraldry, which is rapidly becoming a distinct form of this ancient art.
This is the first widely-available book published on Canadian heraldry since the establishment of the Canadian Heraldic Authority at Government House in 1988.
In addition to its interest for the general reader, the Primer will find its place as an aid to teachers, since its informality of presentation and layout are attractive to young people.
Despite its light touch, the book is entirely authoritative. It includes forewords by the Governor General and the Chief Herald of Canada.
The Primer covers five main areas:
The history and development of heraldry in Europe.
The unique conventions and language of the art.
Specialized types of heraldry- corporate and ecclesiastical arms.
Heraldry in a Canadian context- the Canadian Heraldic Authority; arms for women; aboriginal heraldry; the development of a distinctive Canadian heraldic style.
How to design, apply for, and use your own arms.
If (as we hope) this book engages your interest in this fascinating hobby, the bibliography - or a look in your local library or a further search of the Internet - will provide a number of books and other sources that can take you deeper into the subject than is possible in 64 pages.
A Canadian Heraldic Primer is a cheery look at heraldry (Canadian and otherwise). Because we can sell direct, without paying commissions or discounts, we can offer the book to our members at a great regular price of $11.95, including shipping and handling within Canada. Non-members still get a great bargain at $14.95! (People outside Canada pay slightly more for increased postage and handling.)

IF YOU WANT TO TAKE ADVANTAGE OF THIS SPECIAL OFFER (how many heraldry books can you buy these days for twelve bucks?), please print out and fill in the form by clicking primer order form and send it to the Royal Heraldry Society of Canada with your cheque.
The Royal Heraldry Society of Canada welcomes and encourages everyone who gets bitten by the heraldry bug to join our Society. A membership application form can be found by clicking

here.
About the author and illustrators:
Dr. Kevin Greaves, a retired physician living in Hamilton, Ontario, became interested in heraldry as a boy, and as the author of many articles on heraldry is well known in the Canadian heraldic community. Bruce Patterson edited the popular quarterly magazine Hogtown Heraldry for several years and is now St. Laurent Herald with the Canadian Heraldic Authority.
Gordon Macpherson is Canada's most well known and respected heraldic artist. Fascinated by heraldry since his student days, Macpherson has since designed and painted the coats of arms granted to many prominent Canadians. He has recently been honoured by the Governor General with the title Niagara Herald Extraordinary. All three are active members of the Royal Heraldry Society of Canada