Canadian Heraldic Dictionary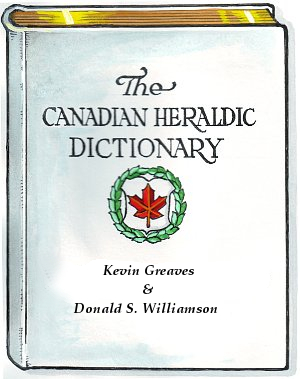 Preface
The need for some sort of dictionary of heraldic terms used in the blazonry of arms granted in Canada became evident during the setting of examinations for the RHSC Heraldry Proficiency course. This was because a number of charges used by the Canadian Heraldic Authority were not to be found in the British heraldic dictionaries – the only ones then available to students of the subject. Since the number of uniquely Canadian terms seemed likely to increase with time, it was decided that such a dictionary would be best in an on-line form, so that additions could be made from time to time. Started in a small way in 2005, it became obvious, in a recent look, that the dictionary was now well behind the times. The present text is an effort to correct the situation, at least up to date. To do a reasonably thorough job, this has required going through the Public Register of Arms, Flags and Badges – now in six volumes – one name at a time, looking for terms not found in any British armorial dictionaries. Some of these "new" terms are uniquely Canadian designations, created to depict uniquely Canadian items; some are descriptive terms coined for innovative features of CHA grants; and some are just ordinary, everyday items, presumably not considered "heraldic" by our British colleagues. All, however, have been used in the blazons of Canadian grants.
It is hoped that the Canadian Heraldic Dictionary will be of use to members taking the Proficiency courses, as well as to others learning about heraldry and the place Canada has achieved in it.

Donald S. Williamson
Instructions

To view a particular letter's entries, click on the letter. A new window will materialize revealing a variety of terms, often accompanied with illustrations. Some entries will include what looks like a magnifying glass as it appears on the right. Click on this to view a larger presentation of the image in the entry for clarity and after viewing it, simply click on your browser's "back" button usually located in the top left of the browser window.