Patron: His Excellency The Right Honourable David Johnston, C.C., C.M.M., C.O.M., C.D.
Governor General and Commander-in-Chief of Canada
Vice Patron: The Right Honourable Beverly McLachlin, PC, Chief Justice of Canada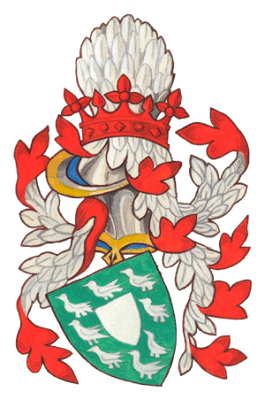 Sir Thomas Erpingham, b.1357, arms Vert an inescutcheon within an orle of martlets Argent (above). He is gesturing with his baton (right). He threw it into the air as the signal to commence shooting at Agincourt. He wears complete armour and mail aventail. Like many experienced men he has preferred to abandon his visor in favour of better visibility. Arms illustration by P. Page after the Garter stall plate.